With CHRISTOS BARBAS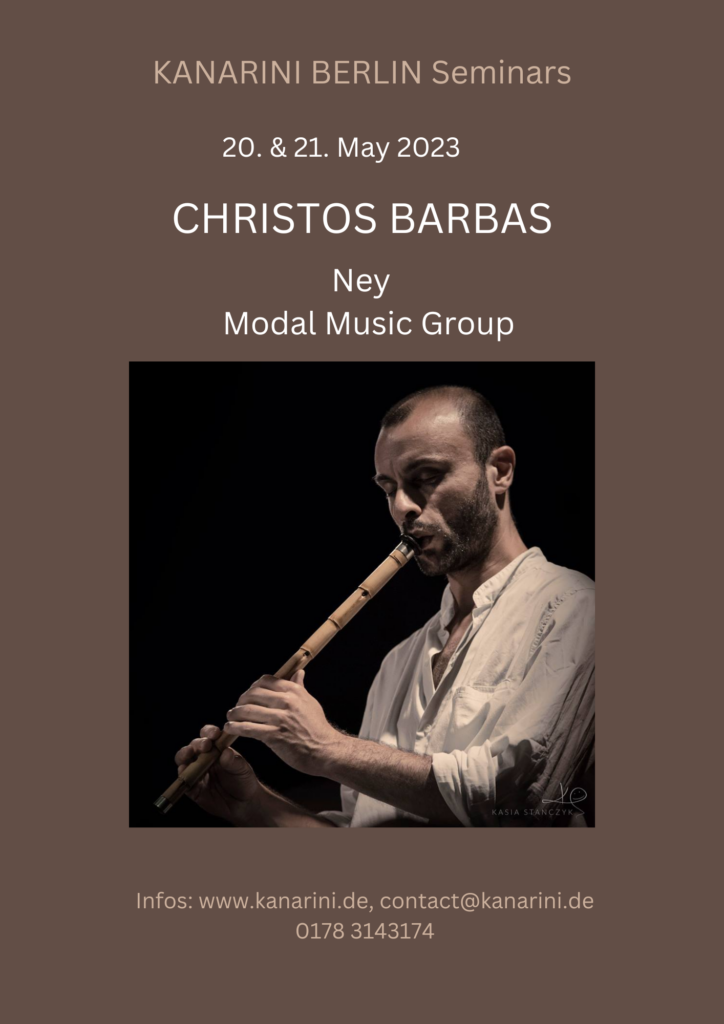 Ney & Modal Music Group Seminar
Ney Seminar
Saturday 20.05. 10:00 – 13:00
Sunday 21.05 10:00 – 13:00
Modal Music Group
Saturday 20.05. 15:00 – 19:30
Sunday 21.05. 15:00 – 19:30
Weekend of May 20-21 will see a seminar on Ney and Modal Music!
In the mornings the course will focus on the Ney, the end-blown reed flute key to certain musical traditions of Turkey, Iran, and the Arab world. We will concentrate on the basics and the repertory of the instrument.
In the afternoon we will switch to group playing, and we will study various modal musics from Greece, Turkey and Middle East of folk, ritual and classical pieces and songs as well as compositions of contemporary modal music. We will work on themes as interpretation, ornamentation, micro­tones, aspects of rhythms and odd measures etc.
In order to attend the course a good level on reading music is required.
Participants are welcome to bring any rhythmic or melodic instrument, including the voice.
Fees:
You can attend one or both of the modules of this course.
Total price (14 instruction hours) : 160,- Euro
Early bird (till 25.04.): 145 Euro
Students & Job Centerers: 135,- Euro
Ney only (6 instruction hours): 80,- Euro
Early bird: 73,- Euro
Students & Job Centerers: 67,- Euro
Music group only (8 instruction hours): 90,- Euro
Early bird: 82,- Euro
Students & Job-Centerers: 75,- Euro
There is a registration fee of 40,- Euros included in the price, non-refundable in case of cancellation.
Register at: contact@kanarini.de or under: +49 178 3143174
ABOUT THE INSTRUCTOR:
Multi_instrumentalist and composer, Christos Barbas is one of the most multifaceted and creative musicians coming from Greece. From an early age he studied the recorder, piano, baroque music, harmony and counterpoint, finishing his studies of Western music in 2002. He studied musicology and ethnomusicology (Mmus) in the Department of Music at the University of Aristotelio (Thessaloniki) and the School of Oriental and African Studies (London). Since 2003 he focuses on the study of Ney, Sufi and classical Ottoman music with outstanding performers in Greece, Bulgaria and Turkey. At the same time he studies and plays several instruments of different musical cultures (kaval, bansuri, irish whistles, bagpipes) ranging from traditional musics to free improvisation and jazz. Actually he is studying Fugue composition in the Athens Conservatoire with Panagiotis Adam.
His main interest is a creative approach to music. Especially the study of older musics, sacred and popular, from the point of view that underline their timelessness and possibilities for people to create, rather than the rigidity of authenticity itself. He communicates this goal through the interpretation of old music, his own compositions, and participating in various projects with other arts and teaching in seminars and workshops of music.
He composes for different formations in a variety of styles (music for contemporary dance, theatre, cinema, modal music) producing 9 cds till now of original music (Yeden, Neda, Magnanimus Trio & Murat Aydemir, Peppe Frana, Efren Lopez). Along with his own groups he collaborates with some of the most prominent performers and creators of traditional and contemporary music: Ross Daly & Labyrinth, Zohar Fresco, Efrén López & Abracadabra, L'Ham de Foc, Evgenios Voulgaris, Milo ke Mandarini Quartet, Maria Farantouri, Anja Lechner, Thomas Strønen, Björn Meyer etc participating in concerts worldwide recording extensively in the wider field of contemporary modal music with companies as An Music, Felmay IT and ECM Records.
He has taught Ney and Kaval, interpretation, improvisation and composition in Modal Music at the University of Popular Music and Traditional Arta (Greece), and also in Macedonia (Thessaloniki). He teaches in Musical Workshop Labyrinth in Crete and in other cultural centers throughout Europe and is the artistic director of Labyrinth Catalunya.